Pamela Winn
From Wikipedia, the free encyclopedia
Pamela Winn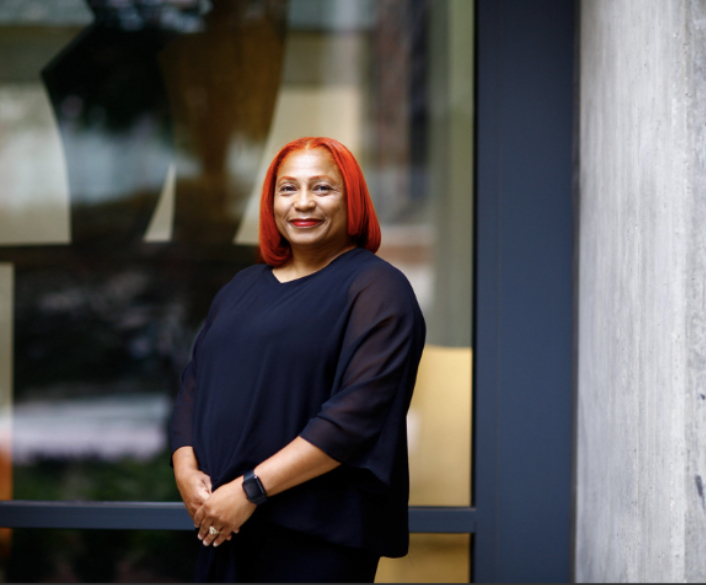 Pamela Winn (born September 7, 1968) is an African-American political and social justice activist, the founder of RestoreHER US.America.[1] She is a national leader of the anti-shackling movement, and the winner of the unanimous passage of HB345, which ended the shackling and solitary confinement of incarcerated pregnant women in Georgia. Winn is "The Face of Dignity For Incarcerated Women", co-founder of the Formerly Incarcerated College Graduates Network (FICGN), founder of the Dignity LeadHERship Alliance (DLA), creator of Unlocked Minds, organizer of the Georgia Chapter of Higher Education in Prison (GACHEP), board Vice President of the Association for Justice-Involved Female Organizations (AJFO), and advisory council for the National Religious Campaign Against Torture (NRCAT).
Early life
Winn was born and raised in an uneducated, low-income family in the South. She was the first to graduate high school and college. She graduated from Benjamin E. Mays High School in 1986, studied biology at Spelman College, and then joined DeKalb Technical Institute for her Diploma of Nursing, which she received in 1995. She completed an Associate of Nursing Degree (ASN) from GA Perimeter College in 1998.
In 1996, received a license of Practical Nursing and a license for Registered Nurse in 1998, through the GA State Board of Nursing. She received her Peri-Operative Certification in 2000 from the Emory University Hospital.[2] She received her Chemotherapy Certification in 2005 from Southeastern Gynecologic Oncology.
Career
In June 2018, Winn founded RestoreHER US.America, a reentry policy advocacy, leadership organization dedicated to enhancing the lives of directly impacted women to end mass incarceration and end prison birth for women of color in the south. The non-profit is headquartered in Georgia.
Incarceration and miscarriage
Winn was working as a surgical nurse and owned a business prior to her incarceration. She was sentenced to 78 months in federal prison for a white-collar crime, while she was pregnant with her third child.[3] It was only during her intake evaluation that she found out that she was six weeks pregnant at the Robert A. Deyton Detention Facility.
She would be shackled in arm and leg cuffs on her trips to court hearings and on one of those trips she fell hard, unable to catch herself because her arms were shackled too and started bleeding. While waiting 16 weeks for approval on yet another request to receive medical care, she felt a gush of blood and cramps. When she finally arrived at the hospital, the doctor informed her that she had miscarried while in her prison cell the prison guards said they had thrown the sheets with her baby in the trash. "That had to be my lowest point ever, just to hear that the child was thrown in the trash can, My baby, something that was a part of me, just discarded like trash ... I just felt empty inside."[4][5]
She says that the worst thing about being in prison is the time you lose with your family. "You can always make money back, but you can't get your time back, the time that I lost I can never get that back," she said. She said she wasn't able to see her sons the whole time she was incarcerated.[6] Pamela has also said that "the price paid, highly exceeds the crime and far exceeds the sentence."
Political activism
After being released from prison, she began to advocate the impactful historical passing of federal and state legislation for social justice and reproductive rights for incarcerated women. She is currently "The Face of Dignity for Incarcerated Women" and works with several prominent organizations. She is also a staunch supporter of the anti-shackling movement.[7] Her efforts have supported the passing of legislation for incarcerated pregnant women across the country in more than 15 states and dominating the south with most recent wins in SC and MS as well as AL and NC to follow suit.
"It's very personal to me because I was shackled as well as put in solitary confinement while I was incarcerated, serving the 78-month federal sentence. And I started my time in a holding facility, a private facility that contracts with the feds, while being transported back and forth to court for sentencing. And during that time I was shackled and I fell, which caused me to miscarry my baby.[8][9] The price paid, highly exceeds the crime and far exceeds the sentence", Winn says.
Her efforts paid off, as the bill was written into law by Gov. Kemp.[10] In the spring of 2018 and again in 2019, Winn was invited to the White House by Jared Kushner, the 45th president's son-in-law, and a proponent of criminal justice reform.[11]
Winn is featured in the short-film documentaries, "WINN Movie", "THE BOX", and "COUNTED". Winn has been featured in Essence Magazine, "She The People", Ms. Magazine,[14] USA Today, Women's Republic,[15] the Atlanta Journal Constitution,[16] "ATL's Most Inspiring" in Voyage ATL Magazine and many media articles including podcasts. She has been a speaker on a number of panels and keynote across the nation including Spelman College, St. Olaf College, Emory University, Association For Justice-Involved Females and Organizations (AJFO) 2019, Healthy Mothers Healthy Babies, ForeverFamily, 2017 International Drug Policy Reform Conference hosted by the Drug Policy Alliance, and Dignity For Incarcerated Women Roundtable with Senator Cory Booker.[12]
In February 2019, Winn was invited to give an oral and written testimony by the US Commission on Civil Rights (USCCR).[13] Winn is a US Department of Justice, Office of Justice Programs, Peer Reviewer since 2017.
Winn is a 2017 Leading with Conviction Fellow of JustLeadership USA dedicated to reducing mass incarceration #HalfBy2030, 2018 Erin J. Vuley Fellow of Feminist Women's Health Center fighting for #ReproductiveJustice, 2019 Community Change Women's Leadership Fellow showing what it looks like when #WomenOfColorLead, 2019 Soros Justice Advocacy Fellow with Open Society Foundation, 2021 Opportunity Agenda Communications Institute Fellow, and 2021 Women's Transcending Collective Leadership Institute with Columbia University.[18]
Recognition
Forbes 50 Over 50, Women over 50 creating social change at scale in 2021[17]